CNNIC Attended the 30th APNIC Conference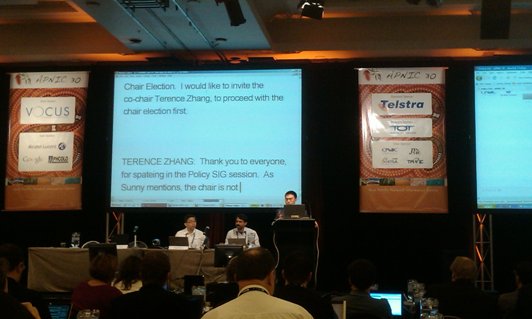 From August 24 to 27, 2010, the 30th APNIC Open Policy Meeting of Asia Pacific Network Information Centre was convened in Queensland, Australia, with experts from international and Asian-Pacific Internet institutions such as ICANN, APNIC, CNNIC, and JPNIC participating in this event. At the conference, they focused upon how to effectively utilize the available IPv4 addresses and how to allocate IPv6 addresses in a reasonable manner. As IP addresses are the basic address resources of Internet, the current IPv4 addresses will be exhausted in 2011 and experts from APNIC advocated for prompt deployment of next generation IPv6 addresses at the meeting.
The participating representatives were engaged in heated discussion regarding the strategies for the transition from IPv4 addresses to IPv6 addresses. On the one hand, the proposal of recovering & reutilizing IPv4 addresses was put forward so as to make full use of some idle IPv4 addresses; on the other hand, such issues as the allocation strategy of IPv6 addresses were delved into so as to allocate IPv6 addresses to users in a more appropriate manner. In addition to the above policies & proposals, such hot topics as Internet governance and the Domain Name System Security Extensions (DNSSEC) were also discussed.
As the Co-chair of NIR SIG of APNIC and Deputy Director of International Business Department of CNNIC, Zhao Wei gave an account of the progress that CNNIC had made in membership promotion and address allocation of IP Address Allocation Alliance, as well as in the deployment of IPv6 addresses. Currently, there are altogether 270 members of CNNIC IP Address Allocation Alliance with a total of 588.3 million IPv4 addresses and 102 blocks of IPv6 addresses (/32) allocated.
As one of the five major Regional Internet Registries (RIR) around the world, APNIC is mainly in charge of the fair allocation and responsibility management of IP Addresses and related digital resources. APNIC is convened twice a year to discuss technical & policy issues for the Internet community of the Asia-Pacific region, with its decisions exerting profound influence upon the development of the Internet in the Asia-Pacific region.
Contact Us

TEL 010--58813000
Address:Floor 1, Building 1, Software Park, Chinese Academy of Sciences, 4 South 4th Street, Zhongguancun, Beijing
Postcode:100190
Tel:8610-58813000
Fax:8610-58812666
Website:www.cnnic.cn
    www.中国互联网络信息中心.中国
Email:service@cnnic.cn(For Service)
   supervise@cnnic.cn(For Complaint)