CNNIC Took Part in NETmundial
From Apr 23rd to Apr 24th, the Global Multi-stakeholder Meeting on the Future of Internet Governance(NETmundia) was held in San Paulo, Brazil. Participants included Dilma Rousseff (President of Brazil), Vint Cerf (one of "the fathers of the Internet"), Tim Berners-Lee (the inventor of the World Wide Web), Wu Hongbo (Under-Secretary-General of UN), Hamadoun I. Touré (Secretary-General of ITU), Fadi Chehadé (CEO of ICANN), Getachew Engida (Deputy Director-General of UNESCO), as well as representatives from various countries. Dr. Li Xiaodong, CEO of CNNIC, Sun Xiantang and Zhu Hongbin, representatives from the Institute of Internet Governance Research of CNNIC, attended this meeting on behalf of CNNIC.
This meeting, which was attended by 1229 representatives from 97 countries, was jointly held by the Brazilian Internet Steering Committee (CGI.br) and the Internet Corporation for Assigned Names and Numbers (ICANN). During the opening ceremony, more than 30 ministers, experts on Internet technology and representatives of the civil society discussed focusing on the principles of Internet governance and the roadmap for future development of Internet ecosystem, as well as elaborated the concept of each country on Internet governance.
At the start of her opening address to the conference, Brazil's President Dilma Rousseff ceremonially signed the Macro Civil, Brazil's Internet Bill of Rights, into law. This bill emphasizes on principles of Internet governance, including freedom of expression, Internet neutrality and privacy. Dilma Rousseff welcomed the proposal to transition NTIA's Stewardship of the IANA Function, and at the same time called for the participation of multi-stakeholders of developing countries, ensuring the demoralization of Internet governance.
Wu Hongbo, Under-Secretary-General of UN conveyed the gratitude of Ban Ki-moon, Secretary-General of the UN, to the Brazil government for holding such conference. He agreed with the multi-stakeholder model of Internet governance and the inclusive and bottom-up involvement process, which are the keys for the mass-accessible, open, secure and reliable Internet.
Dr. Li Xiaodong, CEO of CNNIC, submitted multiple comments to the conference on behalf of CNNIC, appealed for the principles of Internet governance that pay more attention to developing countries, newly participating bodies and capacity building, and suggested keeping the cognitive continuity and renewal of the staff of international Internet governance. During the conference Li Xiaodong talked with representatives from ICANN and other organizations as well, and discussed about the issues relevant to Internet governance.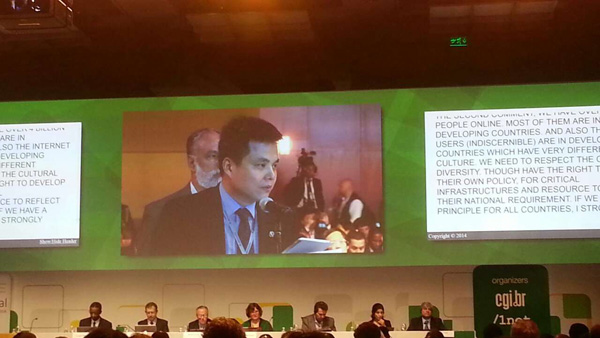 Contact Us

TEL 010--58813000
Address:Floor 1, Building 1, Software Park, Chinese Academy of Sciences, 4 South 4th Street, Zhongguancun, Beijing
Postcode:100190
Tel:8610-58813000
Fax:8610-58812666
Website:www.cnnic.cn
    www.中国互联网络信息中心.中国
Email:service@cnnic.cn(For Service)
   supervise@cnnic.cn(For Complaint)