Li Xiaodong Selected into IANA Stewardship Transition Coordination Group
  On 11 July 2014 ICANN announced that CNNIC Professor Li Xiaodong was selected into the IANA Stewardship Transition Coordination Group ("the Group" or "the Coordination Group" hereinafter), the only Chinese representative selected. The Group aims at proposing and coordinating plans to push ahead transition of IANA management functions. Dr. Li said that the Group's future work will be crucial and will, to a certain extent, affect the governance structure and development direction of the Internet
  On March 14 this year, the American government announced its intention to hand over IANA management functions to the global multi-stakeholder community (IANA undertakes the key functions of file management of domain name root servers, the core part of the global Internet infrastructure). The transfer is an important step for realizing global Internet co-governance. If it is completed, the Internet will get rid of US unilateral control and the current situation where one country dominates global Internet management will be changed fundamentally. By then, Internet communities of various countries and regions will be able to play a constructive role in global Internet governance. To ensure a smooth transfer of IANA management functions, the US government has commissioned ICANN to solicit transfer plans from related interest parties around the world. But the United States may refuse to make any transfer if it does not think the proposed plans are appropriate. Therefore, how to put forward and improve the plans is crucial for the handover of global Internet management functions.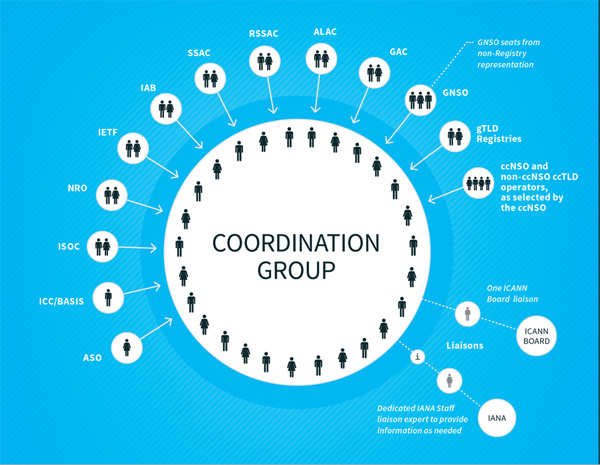 The Coordination Group will soon start to work on how to propose transfer plans. It will collect opinions and suggestions of stakeholders in this regard from all parts of the world and work out a transfer plan that meets the needs of all sides. The Group consists of 27 independent members from government departments, private sector, technical community, non-governmental institutions and academia. The members are selected by special selection committees established by ICANN agencies including ccNSO, GAC, GNSO and ASO and by corresponding stakeholder communities including IETF, ISOC and ICC/BASIS. Dr. Li, with rich experience in and outstanding contributions to the field of basic Internet resources and Internet services, was fully recognized and trusted by the selection committee and eventually selected into the Coordination Team.
  It is reported that the Coordination Team's first face-to-face meeting will be held in London on July 17 and 18.
Contact Us

TEL 010--58813000
Address:Floor 1, Building 1, Software Park, Chinese Academy of Sciences, 4 South 4th Street, Zhongguancun, Beijing
Postcode:100190
Tel:8610-58813000
Fax:8610-58812666
Website:www.cnnic.cn
    www.中国互联网络信息中心.中国
Email:service@cnnic.cn(For Service)
   supervise@cnnic.cn(For Complaint)