CNNIC Launches Website-Reliability Authentication Service for the Next Generation Internet
On September 29th, China Internet Network Information Center (CNNIC) held a "Website-Reliability Authentication Service" (referred to as the "网•信") Conference and a launching ceremony of authentication cooperation regarding defense websites in Beijing. The head of the Communication Resource Management Office of the General Staff Information Technology (China Great Wall Network, abbreviated as " CGWNET "), LI Hongyan, Secretary General of the Commission of Science, Technology and Industry for National Defense, and LI Xiaodong, CEO of CNNIC, addressed the conference.
The head of CGWNET said that,the reliability authentication service for defense websites launched with the cooperation of CNNIC, will contribute to the standardized and orderly informatization work of defense organizations. With the "网•信" service, the level of security and protection of military and defense websites can be effectively enhanced.
LI Xiaodong pointed out that,the "网•信" service with military level security and protection jointly launched by CNNIC and CGWNET, gives full play to the precious experience and technology of CNNIC with aspect to Internet fundamental resources administration, and embodies the endeavor of CNNIC to fulfill the strategy of constructing a safe and reliable Internet in China. "网•信" service will fundamentally prevent site falsification, build a secure and trusted network environment, and solve the key issue of unreliability on Internet governance.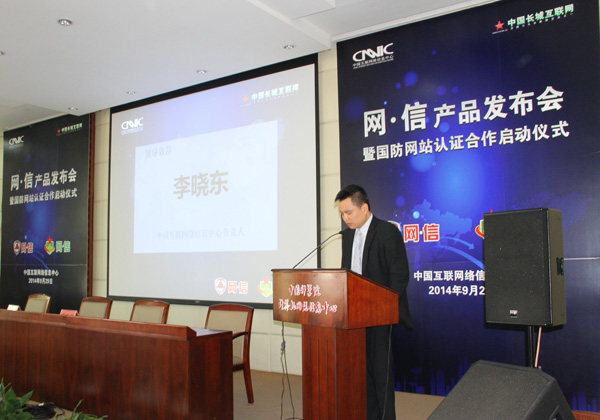 The "网•信" is a website reliability authentication platform regarding Chinese TLDs, which combines the development requirements of Chinese TLDs and is developed by CNNIC based on years of experience on real-name domain system and network security detection management. "网•信" service is divided into three steps, namely, identity authentication, website security scanning, DNS security scan, and thus can carry out all-around "examination" on website security. With the leading anti-counterfeiting encryption technology and detection technology, the "网•信" platform solves problems such as phishing websites for enterprises and comprehensively enhances the reputation of websites. Before Internet users can view authentication information on webpage in a real-time manner, three steps must be finished. Firstly, a website submits authentication applications. Then, CNNIC checks applications, issues digital certificates, and makes identity deployment on servers.
At present, China has more than 600,000,000 Internet users. Mobile Internet, Internet of things, cloud computing, smart city and other sectors of the Internet industry are thriving rapidly. China's next generation Internet has shown an infinite vision. Under the background that the Internet development and governance are equally important, security and credibility will guarantee the sustainable development of China's next generation Internet. It is generally believed that the popularization of "网•信" service will help to enhance the credibility of China's Internet, improve the Internet security and trust system, as well as propel the implementation of the national strategy of building a safe and reliable next generation Internet, which was proposed by LU Wei in London this year. 
Representatives from domain name registration organizations and relevant Internet corporations participated in this conference.
Contact Us

TEL 010--58813000
Address:Floor 1, Building 1, Software Park, Chinese Academy of Sciences, 4 South 4th Street, Zhongguancun, Beijing
Postcode:100190
Tel:8610-58813000
Fax:8610-58812666
Website:www.cnnic.cn
    www.中国互联网络信息中心.中国
Email:service@cnnic.cn(For Service)
   supervise@cnnic.cn(For Complaint)