Li Xiaodong Attends the Workshop on DNS Future Root Service Architecture
  With the support of CNNIC, a "Workshop on DNS Future Root Service Architecture" was jointly held by CNNIC and Farsight Security in Hong Kong on December 8 and 9, 2014. In-depth discussions were conducted at the workshop about the technical, security and management problems faced by the DNS future root service architecture. More than 30 people attended the meeting, including domain technology experts such as Paul Vixie, the creator of Bind, Warren Kumari from Google, Paul Hoffman from VPN Consortium, as well as heads of the operation management agencies for Root Servers A, F, I, J, L and M. Suzanne Woolf, Co-Chair of the DNSOP Working Group of IETF, attended the workshop as a special observer. Internet experts of the Chinese Mainland and representatives of Hong Kong's Internet community also attended the meeting. To enhance its influence and encourage the Internet community's participation, the workshop was live broadcasted on Youtube, with multiple ways of remote access supported.
  Paul Vixie chaired the meeting and Li Xiaodong, head of CNNIC, made the opening speech. At the meeting, participants had heated discussions on IETF's two draft proposals for the improvement of root servers, namely, the proposal concerning root server extension which is led by CNNIC and the one concerning recursive caching-related root zone files which is led by Google. Views were exchanged on the impacts of IPv6, TCP and DNSSEC on the DNS root service architecture. In addition, CNNIC Deputy Chief Engineer Wang Wei proposed a DNS service model that is based on local shared cache, which received a positive response of the participating experts, who then reached a consensus on how to carry out research and report work in the next step under the framework of IETF. 
  By bringing together world-renowned experts in domain name management & research and encouraging all sides to participate in the extension of DNS root services, the workshop further enhanced China's voice and influence in the world in the field of Internet governance and root server operation management.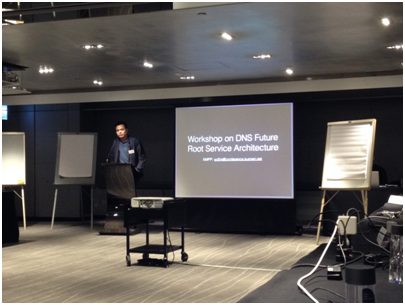 Contact Us

TEL 010--58813000
Address:Floor 1, Building 1, Software Park, Chinese Academy of Sciences, 4 South 4th Street, Zhongguancun, Beijing
Postcode:100190
Tel:8610-58813000
Fax:8610-58812666
Website:www.cnnic.cn
    www.中国互联网络信息中心.中国
Email:service@cnnic.cn(For Service)
   supervise@cnnic.cn(For Complaint)