CNNIC Delegation Participated in the ICANN 53 Meeting
From June 21st to 25th, the 53rd meeting of the Internet Corporation for Assigned Names and Numbers (ICANN) was held in Buenos Aires, Argentina. CNNIC delegation participated in this meeting.
At the conference, Researcher Xiaodong Lee was elected as member of two sub-project teams of IANA(the Internet Assigned Numbers Authority).CNNIC actively expanded overseas business and achieved fruitful results.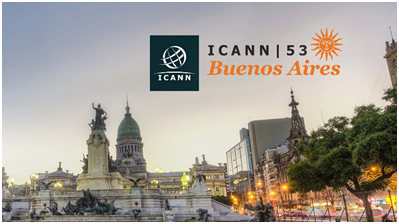 Focusing on the Functions Transfer, Promoting Key Processes
The opening ceremony, taking place in Buenos Aires on June 22nd, brought together more than one thousand delegates globally, such as those from Internet organizations, technical community, the industry, academic community, governments and so on. The most important issues of the meeting were still the IANA function transfer and correspondingly the strengthening of ICANN accountability.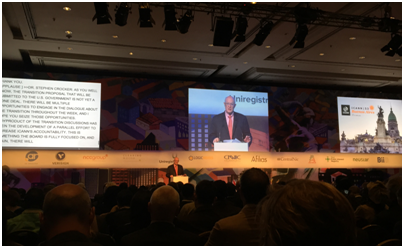 (Dr. Stephen Crocker, Chairman of the ICANN board, addressed the opening ceremony.)
Lawrence E. Strickling, Administrator of NTIA(National Telecommunication & Information Administration), and Fadi Chehadi, President and CEO of ICANN, addressed the opening ceremony, and jointly confirmed that the transition of IANA functions, including the implementation procedures, would be probably completed in June 2016.
Researcher Xiaodong Lee, Director of CNNIC and the only Chinese delegate of IANA Stewardship Transition Coordination Group (ICG), attended the entire discussion. He spared no effort to promote the adjustment of the work model of ICG, in order that it could become a more focused and more productive group. At the working sessions, Researcher Xiaodong Lee was successfully selected member of the sub-group of integrating and assessing the three proposals and member of the sub-group of ICG coordination strategy.
Exploring Global Cooperation, Enhancing International Influence
In the image display area, the theme of "CNNIC+" was particularly striking. Whenever a foreigner asked about its meaning, CNNIC staff would explain to him or her China's "Internet +" boom and the open, cooperative and embracing opportunity attitude advocated by CNNIC in such an upsurge. During the meeting, CNNIC comprehensively deepened strategic cooperation with root zone management agencies and ccTLD operators, and as organizer of the 2nd World Internet Conference (Wuzhen Summit) sent warm invitation to global Internet leaders, who responded actively.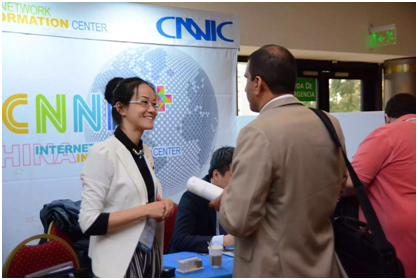 (Dr. Liyun Han of CNNIC introduced overseas business to international cooperation partners)
Enhancing Mutual Trust and Exchange, Sharing the Development Fruits
ICANN is responsible for the global Internet domain name system, the root server system, as well as the coordination, management and distribution of IP address resources. Each ICANN meeting is a major international conference concerning the global fundamental Internet issues, and thus known as the United Nations General Assembly of the Internet. Over the years, CNNIC has established a close partnership with ICANN through projects, such as the Internet fundamental resource management, the new gTLD, and the global Internet governance research. CNNIC organized the ICANN 14 meeting in Shanghai and the ICANN 46 meeting in Beijing, which were highly recognized and praised by experts and scholars at home and abroad.
Contact Us

TEL 010--58813000
Address:Floor 1, Building 1, Software Park, Chinese Academy of Sciences, 4 South 4th Street, Zhongguancun, Beijing
Postcode:100190
Tel:8610-58813000
Fax:8610-58812666
Website:www.cnnic.cn
    www.中国互联网络信息中心.中国
Email:service@cnnic.cn(For Service)
   supervise@cnnic.cn(For Complaint)