CNNIC Attended the 54th ICANN Meeting
Recently, the 54th ICANN (The Internet Corporation for Assigned Names and Numbers) meeting was held in Dublin, Ireland. As an important meeting on the global Internet, the meeting has gathered more than 2000 representatives from government sector, domain name registrars, Internet technology community, academia, Internet companies in more than 100 counties and regions
During this meeting, the delegation of China Internet Network Information Center (CNNIC) had in-depth discussions with other participants regarding new top-level domain name registration services, reinforcement of the ICANN accountability, Internet governance, IANA (The Internet Assigned Numbers Authority) stewardship transition as well as other hot issues.
In recent years, due to the gradual adjustment and optimization of the national domain name registration policy, as well as the strengthening of overseas publicity, the overseas recognition and influence of the national domain names has been fully elevated. As of June 2015, the volume of .CN, the country code top-level domain of China, has exceeded 12000000, raking the second in all the ccTLDs globally, with overseas service channels covering the globe. At present, more than 90% of the fortune 500 enterprises world-wide use the domain name .CN. At the meeting, CNNIC shared the cloud registration business, as well as displayed its products, services and technology in an all-round way. CNNIC expected to comprehensively enhance the development potential of cloud registration by deepening the strategic cooperation with the domestic and foreign new generic top-level domain name registries, and strengthening in-depth exchanges with the famous registration management and service agencies in the world.
In addition, in the members' meeting of ccNSO (Country Code Names Supporting Organization), CNNIC delivered a keynote speech, namely, ccTLD Management Organizations Play a Leading Role in the Internet Governance. In this keynote speech, CNNIC, as a ccTLD management organization, shared the results and practical experience in the Internet development and governance, promoted the communication and exchange with international Internet organizations and communities in the global Internet governance research field, and enhanced the impact of our registry in the international Internet field.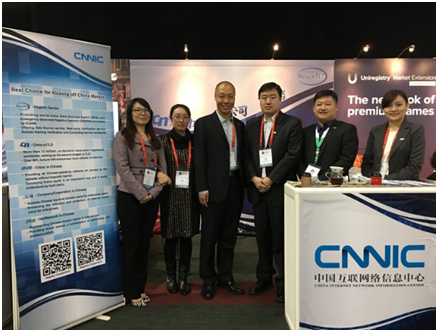 Contact Us

TEL 010--58813000
Address:Floor 1, Building 1, Software Park, Chinese Academy of Sciences, 4 South 4th Street, Zhongguancun, Beijing
Postcode:100190
Tel:8610-58813000
Fax:8610-58812666
Website:www.cnnic.cn
    www.中国互联网络信息中心.中国
Email:service@cnnic.cn(For Service)
   supervise@cnnic.cn(For Complaint)