CNNIC Hosts Internet Plus Seminar at the 10th United Nations Internet Governance Forum
During November 10-13, the 10th United Nations Internet Governance Forum (IGF) was held in Joao Pessoa, Brazil. Attending the forum were over 5,000 representatives from governments, international organizations, civil society, Internet technology communities, research institutes, and enterprises around the world. Discussions centered around the trend in sustainable Internet development around the world as well as other topics, and discussions covered hot issues on Internet Governance. CNNIC sent a delegation led by Director Li Xiaodong to the event.
At the forum, the CNNIC delegation hosted a seminar titled "Internet Plus Drives Industrial Reforms" and welcomed participants from the United States, Germany, Switzerland, Russia, Portugal, the Czech Republic, Lithuania, etc. At the seminar, delegates from CNNIC showcased China's "Internet Plus" strategy and its practical achievements, and interacted with participating experts on issues such as the integration of traditional industries with the Internet and their transformation, challenges and development trend of "Internet Plus", etc. Participants believed that the seminar helped the world better understand China's progress in deepening the integration of the Internet into various aspects of the economy and society and its achievement in building new advantages and momentum for economic and social development.
CNNIC also held the seminar themed "Mobile Payment Promotes Economic Growth" together with the Internet Society of China, and China Association for Science and Technology. Representatives from the Partnership for Information and Communication Technologies in Africa, Microsoft, the Colombian Communication Regulation Commission, and Beijing University of Posts and Telecommunications had discussions on mobile payment's becoming a new driving force for economic growth, causing profound changes to people's daily life, and how to ensure payment safety.
In addition, CNNIC also hosted a themed exhibition to introduce CNNIC's Internet Governance Research (IGR), the Asia-Pacific Internet Resources Capacity Building Program, and other key issues, laying solid foundation for the expansion of international cooperation in 2016.
The IGF has been held annually since 2006 as an important initiative of United Nations Economic and Social Council. It aims at exploring ways to enhance the building of the IGF, carrying out multilateral and multi-facet discussions on Internet governance, promoting the sustainable development of the global Internet and information industry.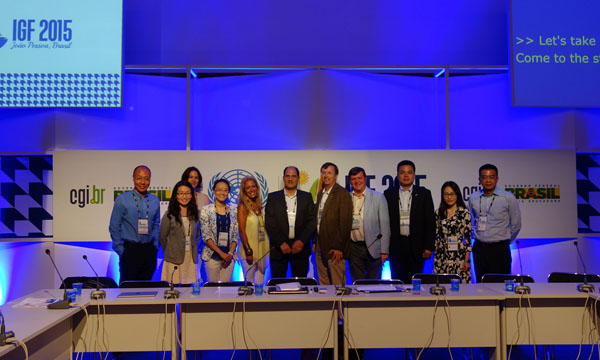 Contact Us

TEL 010--58813000
Address:Floor 1, Building 1, Software Park, Chinese Academy of Sciences, 4 South 4th Street, Zhongguancun, Beijing
Postcode:100190
Tel:8610-58813000
Fax:8610-58812666
Website:www.cnnic.cn
    www.中国互联网络信息中心.中国
Email:service@cnnic.cn(For Service)
   supervise@cnnic.cn(For Complaint)