"Father of the Internet Visits CNNIC and NATech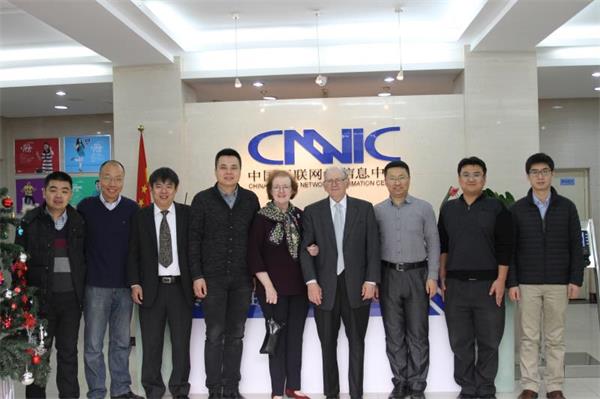 On December 22, a delegation led by Father of Internet Robert Kahn, along with his spouse, visited China Internet Network Information Center (CNNIC) and the National Engineering Lab for Naming and Addressing (NATech). Li Xiaodong, Director and Chief Engineer of CNNIC, and heads of relevant departments of CNNIC and NATech, received the delegation.
After listening to an introduction to the overall work of CNNIC and NATech, Mr. Kahn and Li Xiaodong discussed technology cooperation, agreeing to collaborate on the architectural design of Digital Object Identifier (DOI) and the identifier resolution system (Handle system), and technology operations.
In an interview with CNNIC after the meeting, Mr. Kahn shared his vision of future internet development, and expressed expectations of China Internet Museum, hoping the Museum will become a communication platform for internet users around the world and a world-famous internet museum.
As a co-inventor of TCP/IP, Robert Kahn has been known as the "Father of the Internet". At the invitation of CNNIC, he attended the 2nd World Internet Conference in Wuzhen lately.
Contact Us

TEL 010--58813000
Address:Floor 1, Building 1, Software Park, Chinese Academy of Sciences, 4 South 4th Street, Zhongguancun, Beijing
Postcode:100190
Tel:8610-58813000
Fax:8610-58812666
Website:www.cnnic.cn
    www.中国互联网络信息中心.中国
Email:service@cnnic.cn(For Service)
   supervise@cnnic.cn(For Complaint)