China Domain Name Industry Conference 2016 Wrapped up
On January 20, China Domain Name Industry Conference 2016 was held in Guangzhou. Delegates from over 80 domain name registries and domain name registrars including Xinnet Digital, Aliyun, Zodiac and Afilias attended the conference, Pei Wei,Head of the Internet Division of the Information Communication Management Bureau at the Ministry of Industry and Information Technology (MIIT) , Li Xiaodong, Director of the China Internet Network Information Center (CNNIC) attended and addressed the conference.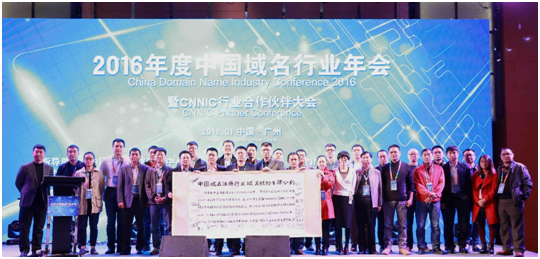 Pei introduced the management policies of MIIT for the industry of domain names. She said that the state competent authority, domain name registries and domain name registrars in the domain name system shall meet each other's needs and make concerted efforts to jointly increase the safety and reliability of China's domain names, promote the safe development of China's domain name system and ensure healthy and safe basic Internet resources in China.
Li Xiaodong, Head of CNNIC, emphasized the operation and development of China's domain names in 2015. He pointed out that, the number of .cn registered domain names has reached 16.36 million, surpassing .de domain names of Germany, and making .cn the biggest Country Code Top-Level Domain (ccTLD) in the world. He said that the achievement is closely linked with the security and stability of .cn domain names, as well as the long-term support and promotional efforts of domain name registrars. He thanked all the domain name registrars for their efforts for the development of basic Internet resources of China. Meanwhile, Li disclosed the information to the participants on China's security platform for domain names, independent development of DNS software and hardware as well as the progress of preparing for China Internet Museum.
Then, representatives of dozens of domain name registrars signed the Self-regulation Convention of China's Domain Name Registration Industry on Verification of Domain Names, advocating providing the general public with more efficient and normative registration services of domain names. At the forum on registration and management of domain names after the above signing ceremony, the guests made in-depth discussions on the characteristics of the current development of China's domain name industry and predicted the opportunities and challenges of the new gTLD.
Contact Us

TEL 010--58813000
Address:Floor 1, Building 1, Software Park, Chinese Academy of Sciences, 4 South 4th Street, Zhongguancun, Beijing
Postcode:100190
Tel:8610-58813000
Fax:8610-58812666
Website:www.cnnic.cn
    www.中国互联网络信息中心.中国
Email:service@cnnic.cn(For Service)
   supervise@cnnic.cn(For Complaint)