Cooperation Memorandum Signed between CNNIN and KISA
Recently, representatives of China Internet Network Information Center (CNNIC) and Korea Internet Security Agency (KISA) cordially met. After an all-round discussion about the future cooperation by the representatives, Xiaodong Lee, Chief Executive Officer of CNNIC, and Ki Joo LEE, President of KISA, signed a cooperation memorandum.

Both CNNIC and KISA are national top level domain name registries on behalf of China and Korea, respectively, and thus undertake the construction of national Internet infrastructure. Since 2001, the two parties have maintained close bilateral cooperation regarding the formulation of international Internet standards, the construction of domain name resolution nodes, the domain name resolution service and so on.

This memorandum signals that both parties have reached agreement and will conduct wide-ranged cooperation of common interests, like the development of Internet address technology, the new network technology service, etc. KISA and CNNIC have a long history of collaboration and communication in the Internet domain name field and the memorandum signals both parties' willingness to carry out comprehensive and in-depth cooperation, Xiaodong Lee said during the meeting. He hopes that based on the memorandum wider, more in-depth and practical bilateral cooperation will be propelled. KISA pays much attention to the win-win development and the long-term bilateral collaboration and will spare no efforts to further lift KISA-CNNIC ties in carrying out a series of joint projects, Ki Joo LEE said. He believes that achievements will be brought by the joint work.

In the near future both parties will increase communication in respect of both technology and business, arrange visits and exchanges of experts, and ultimately build a joint research center.

China is the country with the largest number of netizens and Korea is one of the countries with the highest Internet penetration rate in the world. The two countries have significant impacts on the international Internet community. The collaboration will positively influence the research on Internet technology and the policy making in the Asia Pacific region. The signing of the memorandum signals that a new level of collaboration has been reached.

CNNIC is an administration and service organization set up on June 3, 1997 upon the approval of the competent authority and undertakes the responsibilities as the national Internet network information center. CNNIC is responsible for operation, administration and services of fundamental Internet resources, undertakes R&D and security work of fundamental Internet resources, conducts research on Internet development and provides consultancy, and promotes the cooperation and technological exchange of global Internet.

Korea Information Security Center was established in 1996 and changed its name to KISA in 2001. KISA, the authoritative organization set up by the Korean government to develop next generation Internet, is in charge of the operation of national network information center. Its business involves the administration of Internet domain name and IP address as well as the research on new Internet technology.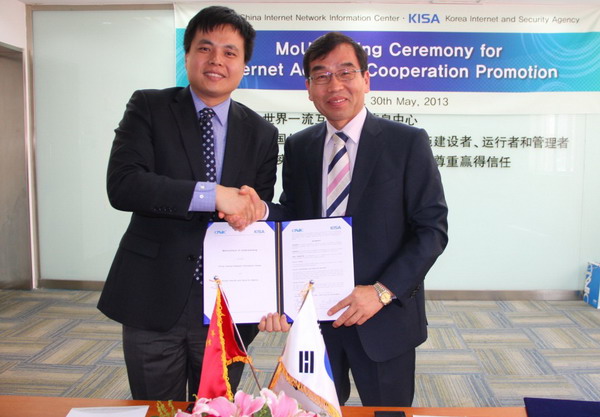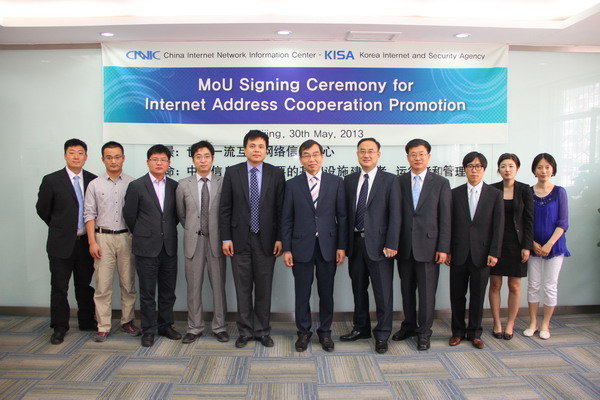 Contact Us

TEL 010--58813000
Address:Floor 1, Building 1, Software Park, Chinese Academy of Sciences, 4 South 4th Street, Zhongguancun, Beijing
Postcode:100190
Tel:8610-58813000
Fax:8610-58812666
Website:www.cnnic.cn
    www.中国互联网络信息中心.中国
Email:service@cnnic.cn(For Service)
   supervise@cnnic.cn(For Complaint)