CNNIC-KISA Strategic Partnership Conference Held
From December 4th to 5th, 2013 the CNNIC-KISA Strategic Partnership Conference was successfully held. Xiaodong LI, CEO of China Internet Network Information Center (CNNIC), and Ki Joo LEE, President of Korea Internet and Security Agency (KISA), attended this conference.
During the conference both parties exchanged the progress and achievements of the work in each country in respect of ccTLD operation, New gTLD development, DNS operation and administration, DNSSEC deployment, IPv6 deployment, RPKI and the next generation Internet, and elaborated respectively the opinions and ideas regarding a series of hot issues and technologies. According to the conference, both parties will build up a DNS rapid emergency response mechanism, in order to provide effective support for the security of the other party's ccTLD. Besides, based on the consensus made in the strategic Memorandum of Understanding, both parties decided to officially launch the CNNIC-KISA joint research center, specifically start 4 joint research programs, namely, IPv6, IDN/EAI, DNSSEC and RPKI, build the trilingual (Chinese, Korean and English) website of the joint research center, and support each other in the future international policy and technology fields.
Since 2001 CNNIC and KISA have carried out cooperation in multiple fields, including the international standard formulation, the international program cooperation and the exchange of resolution nodes. On May 30th, 2013 both parties signed the Memorandum of Understanding in Beijing, agreeing to conduct periodic mutual visits and personnel exchanges as well as further optimize partnership relationship.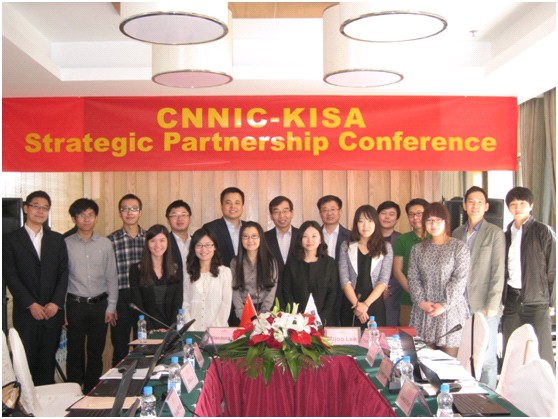 Contact Us

TEL 010--58813000
Address:Floor 1, Building 1, Software Park, Chinese Academy of Sciences, 4 South 4th Street, Zhongguancun, Beijing
Postcode:100190
Tel:8610-58813000
Fax:8610-58812666
Website:www.cnnic.cn
    www.中国互联网络信息中心.中国
Email:service@cnnic.cn(For Service)
   supervise@cnnic.cn(For Complaint)