Introduction to CNNIC IP Address Allocation Alliance
IP addresses and AS numbers are allocated on a hierarchical basis. ICANN (The Internet Corporation for Assigned Names and Numbers) is responsible for the numbering and allocation of IP addresses in place of IANA. ICANN allocates some IP addresses to Regional Internet Registries (RIRs) that are responsible for the registration service in their respective regions. There are now altogether 5 RIRs in the world: ARIN, RIPE, APNIC,

AFRINIC

and LACNIC. ARIN is in charge of the operation in North America, RIPE in Europe and LACNIC Latin America and

AFRINIC

in Africa and APNIC is in charge of the IP address and AS number allocation in Asia-Pacific countries. There are also some lower-level IRs under RIR, such as NIR and LIR which can obtain IP addresses and AS numbers from APNIC and then allocate them to their respective lower-level organizations.
Refer to the following diagram.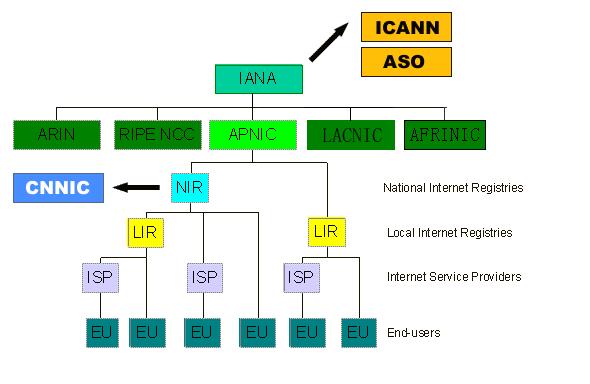 For Chinese Internet Service Providers (ISPs), applying for participating CNNIC IP allocation alliance, which applies for IP address and AS number, is the most effective way to apply for IP address and AS number.As the national network information center, CNNIC has become to be the member of APNIC since Jan, 1997 and established the allocation alliance as the convening entity. According to APNIC-051, the members of this alliance can obtain IP address and AS number through CNNIC.
Contact Us

TEL 010--58813000
Address:Floor 1, Building 1, Software Park, Chinese Academy of Sciences, 4 South 4th Street, Zhongguancun, Beijing
Postcode:100190
Tel:8610-58813000
Fax:8610-58812666
Website:www.cnnic.cn
    www.中国互联网络信息中心.中国
Email:service@cnnic.cn(For Service)
   supervise@cnnic.cn(For Complaint)