Application Assistance
CNNIC has participated in ICANN's new gTLD program since 2011 and is responsible for the application and management of Chinese-language new gTLDs ".公司" and ".网络". Our professional assistance has saved entrepreneurs much time and energy from the complicated procedures of domain application:
 • We are familiar with the domain policies in China and abroad. And we will promptly update you on the latest events if you wish to.
 • We can assist you in completing and submitting new gTLD application.
 • We can connect you with domain registrars globally and assist you in building partnerships.
The Advantages and Risks of New gTLDs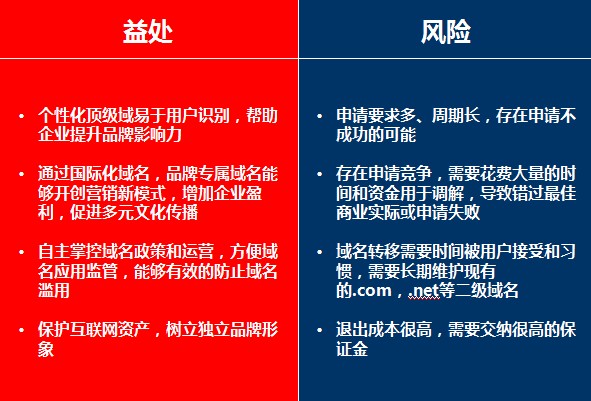 1.Advantages
Recognizable and unique, a new gTLD gives distinction and market influence to your enterprise.
A new domain can empower your enterprise and discover a new market.
It is part of your invisible asset on the Internet and guards against trademark violations.
Your enterprise can take the initiative in domain/brand establishment and management.
2.Risks
With many requirements to fulfill, the application process can be very long and difficult.
The application process is highly competitive; valuable time and energy can be wasted on dispute resolution. You might even miss business opportunities.
It takes time for users to accept and get used to new domains. Domain transfers can take much time and energy.
It is costly to withdraw: you often have to pay high deposits.
New gTLD
Application procedure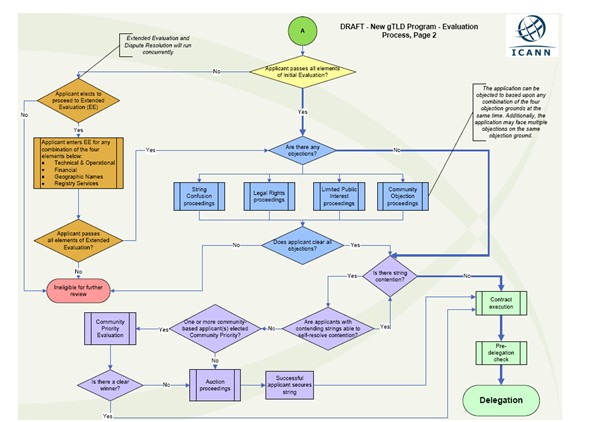 The Competitive Advantages of CNNIC's Domain Assistance Service
 • As a non-profit organization, CNNIC has 16 years of rich experience in domain name management. It has over 8 million successfully registered domains under its management and assistance.
 • CNNIC is the only domain service provider in China that has nodes in all first-tier ISPs.
 • CNNIC is among the first to engage in IDN applications and develop Chinese-language domains.
 • CNNIC is experienced in the Chinese domain industry and has practical experience in real-name verification and domain security safeguard.
 • Equipped with a sophisticated information security system, CNNIC is the first CA (Certificate Authority) Center with Webtrust certificate. CNNIC has also passed ISMS verification as well.
 • CNNIC has provided technical and management assistance to multiple registrars during this new gTLD application.
Contact Us

TEL 010--58813000
Address:Floor 1, Building 1, Software Park, Chinese Academy of Sciences, 4 South 4th Street, Zhongguancun, Beijing
Postcode:100190
Tel:8610-58813000
Fax:8610-58812666
Website:www.cnnic.cn
    www.中国互联网络信息中心.中国
Email:service@cnnic.cn(For Service)
   supervise@cnnic.cn(For Complaint)